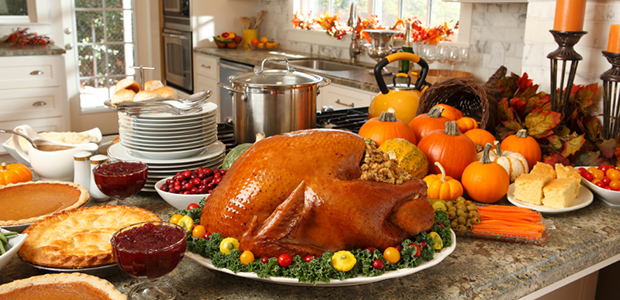 Cooking for a crowd is a challenge no matter the conditions. But, as we all know, working with cumbersome appliances and a disorganized layout can transform your holiday cooking into a kitchen nightmare. Thankfully, there are a few things you can do to cure your cramped kitchen woes.
1. Upgrade Your Appliances
Start by thinking spatially. If you're cooking large, holiday dinners, chances are you'll have some helping-hands in the kitchen. One of the ways to work around a lack of space is to purchase appliances that make the most efficient use of the space available. In-wall, double ovens are a great idea if you frequently cook for a crowd, while countertop-cooking surfaces are perfect for those who need the extra cabinetspace. Of course, when you cook for a group you have to factor in the clean up. If you have the space, consider adding an extra dishwasher. If that's not an option, consider replacing your current dishwasher with a larger, energy efficient model.
2. Check Your Plumbing
More than likely, your kitchen only has one sink (but how great would it be to have two?). Good news: If you have a decent sized kitchen-island, a quick chat with your plumber will let you know if an extra sink is a reality. If an additional sink isn't realistic, consider adding a pot-filler faucet to your stove.This is a great way to improve your kitchen's flow without breaking the bank. One final tip: If your garbage disposal isn't happy, no one's happy. Before you embark on your holiday cooking, make sure your disposal is cleaned and ready for the extra workload. If it's been sounding rough, we recommend calling a plumber or handyman to come out and take a look at it.
3. Maximize Your Storage
Outside of a complete overhaul, there's no better way to improve your kitchen's functionality than by upgrading your cabinets. Retractable trashcans, lazy Susans, pullout shelving and drawer/cabinet dividers all make smart additions to your existing kitchen (and save you tons of space). If you have the budget to install new cabinets, opt for base cabinets with drawers and an extension of your existing cabinets to ceiling height.
4. Remodel Your Space
Few projects spark the imagination like a kitchen remodel. Whether you want to tackle the aesthetics of your kitchen (new countertops, matching appliances and lighting), or add additional room to accommodate more involved culinary adventures, a remodel is the way to go if you're after the ultimate cooking and entertaining environment.